Return to case Studies
Challenges:
Ladysmith Land, LLC, an affiliate of Jarrell Properties, Inc. ("JPI") was interested in developing a mixed use community on over 700 acres at Ladysmith in Caroline County, Virginia. The Ladysmith project faced two primary obstacles: (i) the property was owned by four different owners, and (ii) Caroline County was interested in the project, but only if it were to be developed as a Traditional Neighborhood Development ("TND").
Ownership – JPI had to negotiate with four different ownership groups to acquire the property, while still maintaining a fiscally sound takedown schedule.
TND Design – With its grid system of streets, alleys and extensive architectural standards, TND design is usually much more expensive to build than a conventional subdivision. At that time, there were few, if any, successful TND's in rural areas because of these increased costs. . JPI had to balance the County's desire for a TND design with the requirement that JPI be able to deliver an affordable product that would be successful in a rural setting.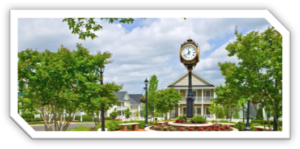 Solutions:
Ownership – JPI was able to successfully reach an agreement with three of the landowners that allowed JPI to obtain the required entitlements for the project while working with the owners to make the rezoning process a success. Shortly after the successful rezoning, JPI was able to reach an agreement with the final landowner and add the last parcel of land to the project.
TND-Design – JPI worked with the preeminent TND design firm DPZ Partners to create a world class design for Ladysmith Village. DPZ and JPI held a number of meetings with the community, planning commission and supervisors to develop a plan that would work for all stakeholders. In particular, JPI and DPZ dedicated their efforts to develop architectural standards that would guarantee a first-class product for the county and the project residents while being cost effective to ensure the project's fiscal success. These meetings culminated with a community charrette to develop the final architectural standards for Ladysmith Village.
Result:
Ladysmith Village was successfully rezoned in 2003 and the total project was approved for 3170 units. JPI developed the first phase of Ladysmith Village, which included, two parks, walking trails, an elementary school, a public library, and a site for the Caroline County YMCA. In 2006 JPI sold Ladysmith Village to Newland Communities for over $130 million.