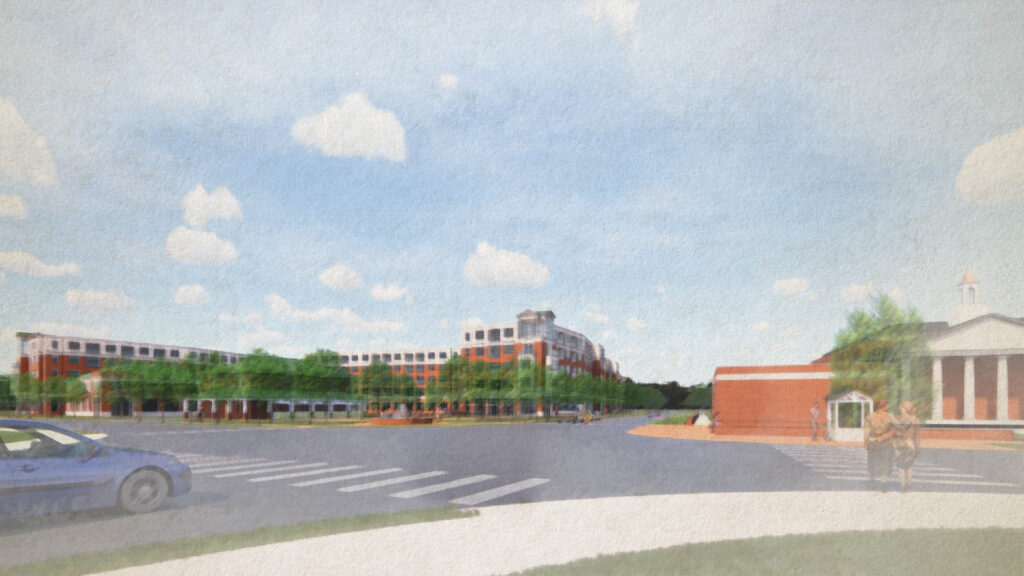 Rezoning Approved for Fountain Park at Downtown Stafford
Jarrell Properties, Inc. (JPI), a Property Development Company headquartered in Fredericksburg, Virginia, announces approval of the region's new mixed-use development, Fountain Park at Downtown Stafford.
The Stafford County Board of Supervisors voted, during their regular July 2021 meeting, to rezone approximately 6 acres owned by JPI and located at the main intersection for Stafford County (Route 1 and Courthouse Road). This Board action paves the way for JPI to move forward with Fountain Park; the fulfillment of a long-range planning goal for Stafford County, to deliver a 'live here, work here, relax here' complex, igniting the realization of Downtown Stafford.
Fountain Park will offer over 68,000 square feet of commercial, restaurant and office space, with the support of 309 multi-family residential units. The residents and businesses will be housed in a total of seven buildings, consisting of modernly-appointed architectural brick construction.
An important component of Fountain Park is an enhanced focus on Work Force Housing, assisting County employees with the need for housing solutions within Stafford County. JPI is originating a fund for County employees to use as an aid to get past typical hurdles to independent living. Further, the company is continuing to work with the County to implement additional housing relief programming, designed to aid workers in Fountain Park or other locations in the County.
Fountain Park at Downtown Stafford will become a destination, a Stafford County landmark, a beautiful location to gather for small events and enjoy good weather. The property will host community-minded amenities for the general public, to include ample sidewalks for walkability, a village park and fountain, and access to the dog park within the complex.
"We have worked with Stafford County for over three years to get Fountain Park approved. We look forward to delivering this dynamic project in the heart of Stafford County, a place this community can be proud of and call their own." James E. 'Jay' Jarrell, III, President of Jarrell Properties, Inc.
Jarrell Properties, Inc., established in 1987, is a privately owned construction and development corporation actively involved in the real estate market in central and northern Virginia. From its headquarters located in downtown Fredericksburg, Virginia, and with an eye toward smart growth, the company has developed and owns thousands of residential properties, and numerous commercial developments. Jarrellinc.com for more information.
For more information regarding Fountain Park please contact Jeh Hicks, Director of Community Relations, Jarrell Properties Inc., at 540-899-3825 jeh@jarrellinc.com