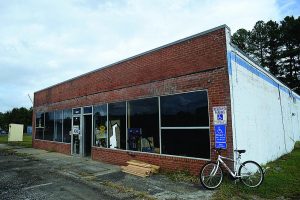 The 50-year-old Tidewater Market building in Spotsylvania County is getting a much-needed facelift in an effort to attract a new commercial tenant.
Marc Smith, a vice president for Jarrell Properties Inc., said the company has put a new roof on the vacant, 4,000-square-foot store on Tidewater Trail. The Fredericksburg-based developer also plans to renovate the inside, make improvements to the exterior and repave the parking lot by the end of the year, he said.
Smith said he's received inquiries from potential tenants that include a micro-brewery, barbecue restaurant, coffee shop and thrift store.
But before any of those businesses could set up shop, Spotsylvania officials must approve the developer's recent request to rezone the 1-acre property from residential to commercial. The Tidewater Market convenience store had been grandfathered in under prior zoning rules.
Smith said both new and established businesses have expressed interest in leasing the property.
"We have had some significant leasing inquiries, and if our zoning request is approved, we should be able to attract even more commercial suitors," he said, adding that the building could be divided into two units.
Jarrell Properties in April paid $241,000 for the building, which at one time was a small supermarket. The store is near a 7–Eleven and the River Club shopping center, which includes a Food Lion and CVS.
In its application to the county, the developer wrote that a convenience store was no longer a practical option for the site because of the neighboring competitors.
​Jeff Branscome: 540.374-5402 jbranscome@freelancestar.com
http://www.fredericksburg.com/news/local/spotsylvania/tidewater-market-in-spotsylvania-county-is-getting-a-facelift/article_783a6fdb-9824-5a47-b22d-e397a16281cb.html